[EN] В Нью-Йорке пройдет конференция, посвященная советскому авангардному искусству
Comradely Objects: Art Against Reification, September 8, 2012, 12:00 – 6:00 p.m.
Новости
19.08.2012 //
296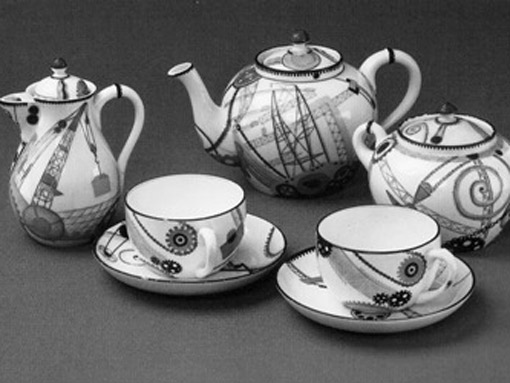 © Людмила Протопопова. Чайный сервиз с индустриальными мотивами. Ленинград, 1930-е гг.
The New School, Theresa Lang Community and Student Center
55 West 13th Street, 2nd floor
Free admission
The Soviet avant-garde occupies a prominent place in the history and historiography of modern art. A subject of extensive discussion in its own right, it has also figured consistently in analyses of the relationship between the historical and postwar neo-avant-gardes. Thirty-five years have passed since the editors of October named their journal after the 1917 October Revolution, "that moment in our century when revolutionary practice, theoretical inquiry and artistic innovation were joined in a manner exemplary and unique." However, many of the concrete implications of the Soviet avant-garde's "exemplary" tactics for more recent artistic practice have yet to be charted.
Among the various strains of Soviet avant-garde activity, the early industrial-design movement known as Productivism has received disproportionately little consideration in discussions of neo-avant-garde returns to avant-garde strategies, with evaluations of the Soviet legacy tending instead to highlight the "laboratory" Constructivism of the 1910s and experimental photography and film of the 1920s. Yet the Productivists' specific investment in reimagining mass-produced consumer items toward progressive ends finds strong echoes in artistic practices throughout the late twentieth century and beyond. In recent years, an intensified interest in the social agency of objects has also driven scholarship in a variety of fields, ranging from art history and literary studies to philosophy, political science, and anthropology. Taking as a starting point the intersection of Soviet Productivism with interdisciplinary "thing theory," Comradely Objects examines both historical and contemporary efforts to reinvent the object of mass consumption through artistic means, asking whether, how, and to what ends the Soviet avant-garde's conception of a radically dereifying consumer object—what art historian Christina Kiaer has called the "object-as-comrade"—can illuminate and inform current practice.
The conference will be organized into three parts. Two opening presentations provide the historical and theoretical ground for the discussion, placing the aims and strategies of Productivism in dialogue with recent efforts to theoretize object agency. They are followed by three conversations between artists and scholars or curators, exploring how things might be made to inhabit the various roles of Companion, Mediator, and Organizer. Art historian Michelle Kuo concludes the conference and reflects on the meaning, relevance, and political potential of efforts to reimagine industrially mass-produced objects for a post-industrial age.
12:00–1:00 p.m.
Introduction
Jonathan Bach
Opening Presentations
Severin Fowles & Christina Kiaer
1:00–2:00 p.m.
The Object as Organizer
Julia Bryan-Wilson & Zoë Sheehan Saldaña
2:00–2:30 p.m.
Coffee break
2:30–3:30 p.m.
The Object as Mediator
Angie Keefer & Lucy Skaer
3:30–4:30 p.m.
The Object as Companion
Sanford Biggers & Ingrid Schaffner
4:30–5:00 p.m.
Closing Remarks
Michelle Kuo
Participants:
Jonathan Bach, Associate Professor of International Affairs, and Chair of the Interdisciplinary Global Studies undergraduate program, The New School
Sanford Biggers, artist
Julia Bryan-Wilson, Associate Professor, The History of Art Department, University of California, Berkeley
Severin Fowles, Assistant Professor, Anthropology, Barnard College
Angie Keefer, writer, editor, amateur engineer, and occasional librarian
Christina Kiaer, Associate Professor, Department of Art History, Northwestern University
Michelle Kuo, Editor-in-Chief, Artforum
Zoë Sheehan Saldaña, artist
Ingrid Schaffner, Senior Curator, Institute of Contemporary Art, Philadelphia
Lucy Skaer, artist
Organized by the Vera List Center for Art and Politics, in collaboration with Lara Weibgen, and presented on occasion of the center's 2011–2013 focus theme "Thingness."